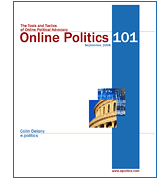 If you want to change the world using digital tools, Online Politics 101 is the place to start. Over the course of 22 chapters and 31,000 words, this comprehensive guide covers online advocacy technologies and tactics in depth, with an emphasis on practical applications and real-world uses. The guide begins with an introduction to the internet as a medium for political change and eight simple rules to get you started, and then moves on to cover topics as varied as political websites, online fundraising, internet video, social media tools such as Facebook and Twitter, email advocacy, viral marketing, online advertising and the subtle art of search engine optimization.
Best of all, the guide is completely free, offered by Epolitics.com as a resource for the online community — you can download the entire document as a 65-page PDF or browse the individual chapters from a list on the right-hand side of every Epolitics.com page. The current version 2.0 was completely rewritten in January of 2011 and features new chapters and 20% more content than the previous editions, which collectively have been downloaded more than 50,000 times since 2006.
In addition to Online Politics 101, Epolitics.com also features two other publications by author Colin Delany, Learning from Obama: Lessons for Online Communicators in 2009 and Beyond (the definitive guide to Barack Obama's 2008 online campaign) and How Candidates Can Use the Internet to Win in 2010. And once you've benefited from them, help spread the word — tell your friends and colleagues, publish them to Facebook and Twitter, or just say nice things in public. Thanks for your help.
– cpd