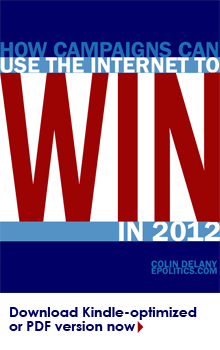 The long-promised guide for 2012 online campaigns is ready at last:
The 2010 version served as an inspiration, but this new 2012 edition is rewritten beginning to end and goes into much more detail about strategy, tactics and logistics. To me, it's a vast improvement and a whole new document. The promotional frenzy starts soon, including a "virtual book launch" I'm about to make live on Facebook plus the usual blizzard of individual and listserv messaging. Next week we'll likely supplement the continuing direct outreach work with a press release, just in case that manages to reach a few extra reporters. Please help spread the word! Let's do us a little #WinningIn2012. Here's a promo blurb:
"How Campaigns Can Use the Internet to Win in 2012" is a comprehensive guide to effective online political campaigning, including detailed overviews of online advertising, volunteer management, digital fundraising, political email campaigning, Twitter, Facebook, Internet-enabled field organizing, online video and more. Its focus is practical, concentrating on using today's digital tools day-to-day to elect candidates in tough political fights.
And here's a sample tweet: "New ebook: How Campaigns Can Use the Internet to Win in 2012, now in PDF & Amazon http://bit.ly/winning2012 #WinningIn2012". Or, retweet my original. Thanks folks!
– cpd