This book is now out of date!
Please see the new ebook, "How to Use the Internet to Win in 2016."
"How Campaigns Can Use the Internet to Win in 2012" is a comprehensive guide to effective online political campaigning, including detailed overviews of online advertising, volunteer management, digital fundraising, political email campaigning, Twitter, Facebook, Internet-enabled field organizing, online video and more. Its focus is practical, avoiding abstract musings and concentrating instead on using today's digital tools to elect candidates in tough political fights.
Written by sixteen-year online politics veteran/Epolitics.com editor Colin Delany and including recent lessons learned from the 2010 elections and the 2012 presidential primary process, the guide details how campaigns can use various digital tools in effective ways, including extensive tips on integrating technologies to get the most from each. The guide's concluding chapter features a sample campaign online communications plan plus links to articles exploring major topics in depth, and the e-book also includes an examination of campaign new media staffing and organization.
Download Now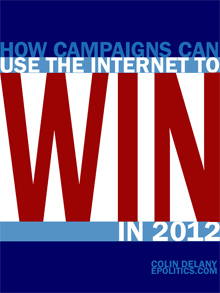 Browse by chapter