It's Official! "Winning in 2010" is Now an E-Book, Ready for Download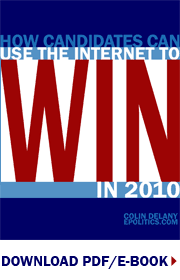 As you might could tell from the promo graphics popping up all over the site, the just-concluded How Candidates Can Use the Internet to Win in 2010 series is now a single publication ready for (free) download.
With five chapters covering the essential online tools and tactics that state- and local-level campaigns can use to find supporters, raise money and turn out voters in next year's elections, the PDF/e-book provides a straightforward guide to leveraging both new and old online tools to win in 2010. Download now or browse by chapter, and don't forget to spread the word.
– cpd