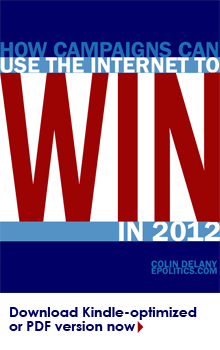 Hi folks, we're back from a brief work/travel frenzy. First on the Epolitics.com editorial calendar: how's that new e-book doing? Surprisingly well, particularly considering that the election's only five weeks away and campaign staff don't have much time to put its lessons to work. September saw 687 downloads of the free PDF and a dozen-odd sales of the Kindle-optimized Amazon version, a total that's down by a quarter from July and August but significantly better than June.
Our complete results so far? Counting free and paid downloads alike, "How Campaigns Can Use the Internet to Win in 2012" has landed in readers' hands 5325 times as of midnight, September 30th, not counting the times the PDF has been circulated via email or other channels. Not bad at all! Once the Election Day dust settles, I'd love to hear from people who used it in practice and had a chance to evaluate what it suggested. What worked? What turned out NOT to be so effective, and why? Epolitics.com will be hungry for case studies, particularly ones with outcomes measured in hard numbers (though we'll welcome qualitative analysis as well).
Thanks again to everyone who's helped spread the word! All an author really cares about is being read, and you guys helped to make sure that would happen. Awesome — thanks for being part of our happy little community here.
– cpd