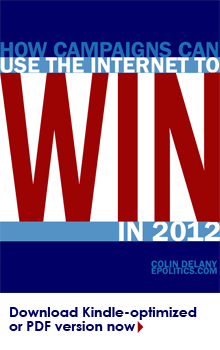 Howdy folks, Epolitics.com is back from a short holiday and an accompanying publishing break. Sorry for the hiatus, but never fear: this year we'll beat the summer heat with plenty of sweet digital politics goodness, including an upcoming pair of articles from a regular contributor. But first, some news on the e-book front: "How Campaigns Can Use the Internet to Win in 2012" has now been downloaded over 2000 times! Thanks for spreading the word, folks — whatever you've been doing has been working.
You'll be shocked shocked SHOCKED! to hear that the free PDF version has out-"sold" the Amazon e-book by a ratio of about 20 to one, but we're not in this for the money (we're in it for the love), so who cares? What really matters is that it's getting out into the hands of campaigns across the country. I'd be happy if they were campaigns I actually supported, but information will flow where it will — knowledge wants to be free, after all (unless it's on Amazon, in which case it's $2.99).
Thanks again, y'all! One other note: the two previous e-books continue to race off the online shelves, with "Learning from Obama" downloaded about 650 times and "Online Politics 101" about 400 times so far in May (each has also sold a handful of copies in the Amazon store). Very cool.
– cpd