'Winning in 2012' E-Book: 3243 People Can't Be Wrong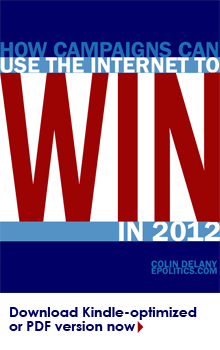 Hi folks, here's a quick update on the latest Epolitics.com e-book, How Campaigns Can Use the Internet to Win in 2012: as of this morning, it had been directly downloaded 3243 times! And of course, that number doesn't include any forwarding-via-email, thumb drive, printout, floppy disk, microdot, carrier pigeon, etc. Most people (not surprisingly) have gone for the free PDF, but about 100 folks have shelled out the big $2.99 to buy the Kindle version in the Amazon store.
Very cool all around! Many thanks go out to anyone who's downloaded it themselves or helped to spread the word, and I'd also love to hear back from anyone who's putting it to direct use in the field. These things are a ton of work to pull together, but they're worth it — they have a heft that no blog post is likely to manage, and they help to reach entirely new audiences. Wonder what's next? So do I…though I have a few ideas floating around, and you'll be the first to hear about them.
Thanks again!
– cpd