Ebook Update: 'Winning in 2012' Goes Worldwide, Closes on a Milestone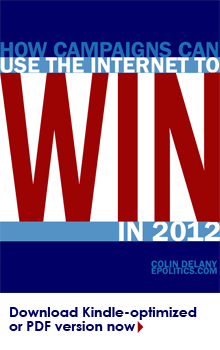 Good news on the publishing front! Our latest ebook here at Epolitics.com, "How Campaigns Can Use the Internet to Win in 2012," is galloping right along: in the three weeks since its release, it's been downloaded directly over 900 times and purchased in the Amazon store (optimized for Kindle) scores more. We should hit 1000 total downloads in the next day or so! Those numbers don't include the ripple effect as people forward it on to colleagues and others, and they're also destined to go up as the promotional campaign chugs along (press release hits the wires tomorrow, for instance, and the ebook should have a mention in the next issue of Campaigns & Elections magazine).
Despite being written specifically for digital politics practitioners in the U.S., it's also spreading around the world, with sales logged in the Amazon stores for Germany, the U.K. and Italy and visitors to the ebook landing page arriving from every continent save Antarctica (get with the program, penguins!). Grab your copy today — and don't forget to pick up Learning from Obama (still the definitive guide to his groundbreaking 2008 online campaign) and the ever-popular Online Politics 101. And please spread the word! Almost all of the promotion so far has been word-of-mouth, and friends-of-Epolitics.com have done a terrific job of letting people in the field know about the book. Thanks, folks!
– cpd