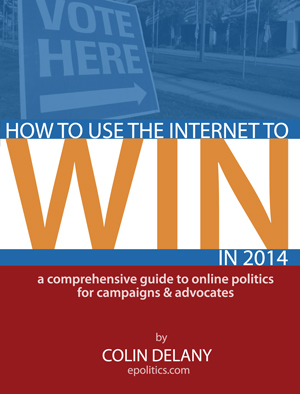 Big news here at Epolitics.com! My latest ebook — How to Use the Internet to Win in 2014: A Comprehensive Guide to Online Politics for Campaigns & Advocates — is ready! It's in the Amazon Store for Kindle users, and for the first time I'm also trying a "pay what you like" system for the PDF download (yes, here at Epolitics.com, we're EXACTLY as cool as Radiohead).
Check out the book (you can preview a full chapter list) and please help spread the word! As far as I know, this is the most complete guide available to using the full spectrum of online tools (integrated with real-world outreach) to make things happen in the world of politics and advocacy.
The new book draws on my experience putting the previous two editions (for 2010 and 2012) together, but this version is significantly expanded (including a wholly new chapter on Data and Analytics), rewritten and completely reorganized. Plus, it reflects lessons from both 2012 and the 2013 off-year elections, so it's the most up-to-date publication possible.
Thanks for your help spreading the word! And if you're one of the folks who voted on possible cover designs and made suggestions, thanks for participating in a most-successful exercise in crowdsourcing creativity. Now, let's sell some books.