Download the New Online Politics 101
This publication is now several years out of date! Please see "How to Use the Internet to Win in 2014" and its successors for an updated digital politics guide.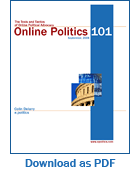 Almost two years in the making, the new version of "Online Politics 101: The Tools and Tactics of Online Advocacy" is now ready for downloading! New chapters cover online political advertising, political databases, choosing the right tools, along with expanded chapters on social networking, fundraising, video, blogs and more. It's an essential guide to doing politics on the internet, and it's absolutely free.
Or, follow the links to the right to browse by chapter
– cpd