"Online Politics 101: The Tools and Tactics of Online Political Advocacy" gathers the e.politics how-to articles into one conveniently packaged (and free) publication.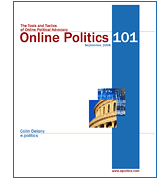 Each chapter contains a link to the live version on epolitics.com with updates and related materials.
Download the PDF [2.4 megs] — right click and "save as" to grab your own copy. You can't hardly beat the price.
Or, follow the links to the right to browse by chapter.