Beginning an Article Series on Lessons from the Obama Campaign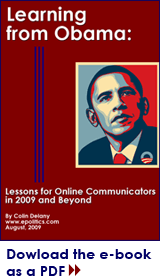 Hi y'all, I'm fixin' to publish the first of what's planned as a six-part series on the lessons of the Obama campaign for other online communicators, political and commercial. The second article will go live tomorrow, followed by the rest over the following week or so. Once we're done, I'll bundle 'em up into an e-book like the Online Politics 101 and put it out there for download — it'll make a great gift for the whole family. The planned topics are below; the links will start to work when each article appears.
Update: download the complete series as a PDF e-book.
– cpd