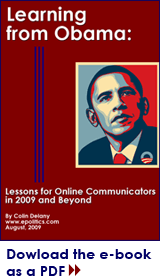 Whew, it's good to have that little article series about the Obama campaign done — except that it's not quite. I wrote those six pieces over a period of four months, and they do need a few changes before I'm completely comfortable with them. They could ALL use a couple more rounds of editing, for instance, and the earliest in particular will benefit from some new facts that have surfaced since they were originally published. The final goal is to edit them all together into an e-book similar to the Online Politics 101, which can then provide an opening to new audiences and (one hopes) new speaking and consulting gigs.
With the PDF conference taking up a good chunk of next week and the July 4th weekend coming right after, the next couple of weeks aren't an ideal time to drop a publication on an unsuspecting world. I'm assuming that I'll put it out in roughly two weeks, which should be a relatively slow time in the political news world but still comes before DC disappears for August vacation. But now, off to PDF.
Update: download it here!
– cpd