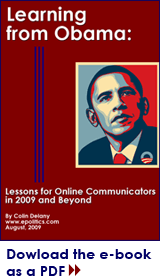 The process of putting together a conference presentation for this Friday, while also planning out a series of articles on Obama campaign lessons, has yielded a nice side benefit: a list of articles about Obama's presidential campaign and how it won in 2008. Consider these a down payment on history, since a slew of books about the 2008 race is due for release this year. And since our site is called e.politics (and all), this collection does emphasize the online side of the campaign, though it begins with more general overview pieces and goes all the way through some interesting niche applications (librarians in action!).
What'd I miss? Leave any article suggestions in the comments — with any luck, we'll have us a little crowdsourcing.
Update: Obama Lessons Series
Since I originally published this article, I've written a series of pieces on lessons for online communicators from the Obama campaign. Download or browse by chapter here.
Campaign Overview Articles:
Articles on New Media and Online Politics
– cpd