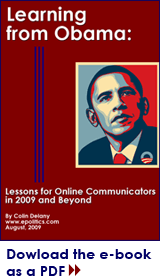 Part One of a six-part series
Without the internet, Barack Obama would still be the junior senator from Illinois. Under the rules of the broadcast era of politics, a young man with a funny name and a couple of years in the Senate might run honorably but would almost certainly lose, crushed by the ability of an experienced candidate like Hillary Clinton to raise money from big donors and lock up endorsements from elected officials and party activists.
But Barack Obama declared his candidacy in 2007, not in 1991, and his two-year campaign for the White House could rely on the internet to an unprecedented extent for its core functions. His staff would employ a combination of both new and proven online technologies to organize volunteers, to find new supporters and put them to work, to turn out voters on election day and (of course) to raise unprecedented amounts of money — all contributing to a crucial edge in the primary and general elections.
Both Obama and Republican rival John McCain relied on the net to bolster their campaigns. But Obama's online success dwarfed his opponent's, and proved key to his winning the presidency.

"Propelled by Internet, Barack Obama Wins Presidency," Sarah Lai Stirland, Wired.com, 11/4/2008
Obama's online staff and the contractors they employed designed, built, tested and steadily improved a series of systems and procedures that formed the basis of a scalable, distributed organization that by November of 2008 spanned the United States and penetrated areas in which Democrats had not competed in years. The Obama new media team tried many techniques in the process, but motivated by the need to achieve measurable political results, they focused on replicable models, practical tools and incremental improvements. In the end they were richly rewarded: their work midwifed an astounding level of citizen interest and involvement for a modern political campaign. The numbers alone are impressive:
On MyBarackObama.com, or MyBO, Obama's own socnet, 2 million profiles were created. In addition, 200,000 offline events were planned, about 400,000 blog posts were written and more than 35,000 volunteer groups were created — at least 1,000 of them on Feb. 10, 2007, the day Obama announced his candidacy. Some 3 million calls were made in the final four days of the campaign using MyBO's virtual phone-banking platform. On their own MyBO fundraising pages, 70,000 people raised $30 million.

"Obama Raised Half a Billion Online," Jose Antonio Vargas, Washington Post, 11/20/2008
The campaign took of advantage of more specialized donations as well, from Will.I.Am's "Yes We Can" video to volunteer software development:
In many ways, the story of Obama's campaign was the story of his supporters, whose creativity and enthusiasm manifested through multitudes of websites and YouTube videos online. It even resulted in volunteer contributions like the innovative Obama '08 iPhone and iTouch application that enabled owners to mobilize their friends and contacts in battleground states through the Apple devices.

"Propelled by Internet, Barack Obama Wins Presidency," Sarah Lai Stirland, Wired.com, 11/4/2008
But it was the internet fundraising that first caught campaign professionals' attention, since it spoke a far older political language: money.
In fundraising, Obama followed in the footsteps of Howard Dean's 2004 bid by regularly soliciting small donations from a wide swath of voters, raising record amounts online by federal filing deadlines. He then used this money for more traditional campaigning — for example, flooding cable markets in strategic states with television advertising. Obama spent a record-shattering $293 million on TV ads between January 1, 2007, and October 29, 2008, according to TNS Media Intelligence. McCain spent $132 million during the same period.

"Propelled by Internet, Barack Obama Wins Presidency," Sarah Lai Stirland, Wired.com, 11/4/2008
Regardless of any other advantages he possessed in the 2008 election season, Obama's ability to raise as much money as his campaign could reasonably absorb, in part by returning to the small donors who stuck with him again and again through the worst, was decisive — it elevated him to the first tier of candidates in 2007, it saw him through rough times in the Democratic primaries and it provided the means for him to absolutely overwhelm John McCain in the general election.
But as we shall see, fundraising was only one component of Obama's carefully nurtured relationship with his supporters, which ran through many channels but had a single ultimate goal: electing him President of the United States.
Learning from Obama's Online Success
Social media lessons from the Obama campaign

Start early
Build to scale
Innovate where necessary; do everything else incrementally better
Make it easy to find, forward and act
Pick where you want to play
Channel online enthusiasm into specific, targeted activities that further the campaign's goals
Integrate online advocacy into every element of the campaign

"The Social Pulpit: Barack Obama's Social Media Toolkit," Edelman Digital Public Affairs, January 2009
What can other online communicators learn from Obama's example? His drive to the White House has obvious implications for future political candidates, but everyone from neighborhood activists to corporate marketers can learn from aspects of his online oddyssey. Let's spell out a few general principles first:
The Obama organization integrated online communications into its overall structure and processes. New media team director Joe Rospars was not buried in the technology or communications department, as were his counterparts in most other presidential campaigns. Instead, he reported directly to campaign manager David Plouffe, and he and others on his staff worked alongside liaisons from other campaign areas such as field organizing and fundraising, sometimes sharing desks in cramped spaces.
Obama's internet communications strategy aimed at concrete, focused and measurable goals, both online and in the real world. Even with the relatively vast resources at hand, his internet communications staff built carefully, innovated only as needed, and invested in projects that seemed to have a real chance of paying off in time to win. Conversely, the campaign hunted supporters through many different online channels and provided them many potential tiers of engagement, with an aim to get as much effort and value out of each volunteer as he or she was willing to give.
The campaign used the internet to put supporters to work substantively both in-person and online. From the beginning, the Obama site gave supporters the knowledge and the means to organize and reach out within their own social circles, and millions ultimately participated in virtual and real-world evangelism on his behalf. Obama partisans badgered, recruited, cajoled and persuaded friends, neighbors, family and complete strangers over the entire course of the 2008 race, and their weapons included parties, events, phone banks, personal phone calls, text messages and door-knocking, plus every online tool available. And, the campaign trusted them to do it.
The campaign carefully targeted much of its online outreach, hoping to maximize the bang-to-buck ratio by delivering the right messages to the right people at the right time. Their emphasis on targeting is visible in everything from customized email messages to Google keyword advertising to online videos directed at people based on their interests or where they lived:


In addition to videos on national issues, the campaign also used geographically-specific videos. In the important battleground state of Ohio, for example, the campaign posted videos of Obama canvassing door-to-door near Toledo, talking to folks about the issues facing their state. The email and video were placed near a button inviting viewers to sign up to volunteer.

"What Worked for Obama Can Work for YOUR Organization," Andrea Wood, M+R Strategic Services, January 2009

The Obama operation treated the supporter relationship as a two-way street, with information and contributions (financial and otherwise) traveling up the chain even as staff instructions and fundraising emails came down. Besides the high-profile "Yes We Can" and other supporter videos that the communications staff helped spread far and wide, individual volunteer phone-bankers and block-walkers provided data that the campaign used to make strategic decisions about resource allocation up until the last hours of the race. In return, members of the volunteer teams dotting the country were held strictly accountable for their roles and for the goals set for them — the campaign was not afraid to "fire" a volunteer.
Fundamentally, Obama's campaign looked upon supporters as a resource to be maintained with great care — as a set of relationships to nurture — and saw the internet as the most useful technology to stay in touch with them, keep them motivated and put them to work.
The Obama Toolkit:
Just about any online application imaginable turned up at some point in the 2008 political season, but these are the ones that the Obama campaign found to be consistently effective:
Website
From its email-capturing splash screen to its opportunity-heavy navigation, BarackObama.com was a ruthless recruiting machine. The website actively pushed volunteers toward resources in the MyBarackObama.com toolkit, aiming to put them to work in their own neighborhoods and social circles. The site was also vital for messaging, particularly through the official campaign blog, which distributed videos, talking points and other information to supporters, bloggers and the broader media world. Through all the long months of the 2008 race, BarackObama.com was the hub around which the campaign's online outreach revolved.
Email
Email was the main tool used to build relationships with supporters and to raise money — if you talk to members of Obama's online staff, it tends to come up again and again. The campaign's (opt-in-only) list topped 13 million names, to whom were sent some 7000 separate campaign-written emails totaling roughly one billion actual messages. And of course, email was one of the main ways individual activists spread the word among their own friends and family.
MyBarackObama.com
Inspired in its approach by social networking websites, MyBO was an online toolset that volunteers could use to organize events, run their own fundraising campaigns, write blog posts, recruit friends and otherwise get involved in helping to elect Barack Obama. MyBO was particularly important in areas in which the campaign did not have professional staff, since it gave volunteers the means to create their own local campaign structure — professional field staff could "parachute in" as elections approached and immediately take over a functioning organization. But all across the country, even in areas with a strong campaign presence, MyBO provided a productive conduit for supporter energy and a launchpad for supporter activism.
Multi-channel online outreach
The Obama campaign passed up few opportunites to connect online. MySpace and Facebook as well as niche networks such as Black Planet were fertile ground for the campaign itself and for supporters acting on their own, and the campaign eventually maintained official profiles on some 15 different online social networks (accumulating five million "friends" in total). Obama's staff worked with other online communities as well, reaching out directly to build relationships and shape coverage in the progressive political blogosphere. The campaign used online video extensively, producing some 1800 separate clips posted to YouTube and BarackObama.com, and also found Google Ads to be a very effective way to catch potential donors and volunteers as they searched the web for political information.
Grassroots outreach/data collection
Almost invisible from outside the campaign itself, the grassroots system combined experience gained from past database-driven voter contact experiments with a replicable grassroots organizing model and internet communications to create a neighborhood-level political juggernaut.
Volunteers across the country (but particularly in battleground areas) trained in person and online to work in their own communities, downloading "walk lists" of houses to visit in their neighborhoods and placing calls assigned through online "virtual phone-bank" applications. The campaign in turn trusted them to update the overall voter outreach database with the results, complementing polling data with massive amounts of overnight information and providing the Obama leadership with priceless insight into how their efforts were playing out on the ground. On election day, the outreach and data-collection operation morphed into a voter-turnout operation, helping to deliver Obama victories in traditionally Republican areas and states.
Text messaging/cell phones
Structural constraints in the telecom industry still limit the use of cell phones as a mass communications tool in U.S. politics, but individual Obama supporters and organizers of course used text messaging, video and voice calls extensively in their own personal outreach. The campaign also amassed a central list of roughly one million cell numbers and used SMS text messages to promote voter turnout as well as to make campaign announcements such as Joe Biden's selection as Vice President. Campaign staff also relied on cell phones to reach segments of the population less likely to be on a computer regularly, such as young people, minorities and the poor.
A movement or not?
"In this Internet era, it's not enough to run a campaign; you need to lead a movement," Mindy Finn, a Republican online political operative, told me less than three days after the election.

"Politics Is No Longer Local. It's Viral." Jose Antonio Vargas, Washington Post, 12/28/08
One conclusion some have drawn from the last few years of internet politics is that future political campaigns MUST transform themselves into movements driven by mass enthusiasm if they hope to win elections. Well, maybe — but plenty of people not named Barack Obama and not boosted by a vibrant and extensive network of active supporters also won on November 4th, and it strains credulity to think that every race for city council, school board or even Congress will swing on which candidate most effectively mobilizes an internet-driven grassroots army. Even for online "movements" at the presidential level, the overall results are mixed: Obama may have won, but Dean didn't in 2004 — and neither did Ron Paul in 2008.
But who cares? Whether they use it to build a movement or not, the internet gives individual people and groups large and small the potential to have a profoundly loud voice. For example, whoever put the video of the Reverend Wright's rant on YouTube or sent the first "Obama-is-a-Muslim" email committed a political act as as influential as any other in this long election season.
In any case, hard experience shows over and over that online tools don't care who uses them, and I suspect that those who don't remember the history of the Obama campaign are doomed to get repeatedly walloped by those who do. So with that in mind, let's look at the lessons of 2008 in more detail, starting with what we can learn from how Obama organized his campaign staff.
In This Series:
– cpd