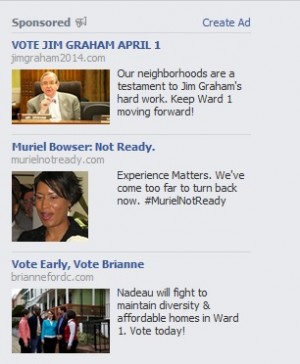 Election season has come to the tree-shaded (and recently snow-shrouded) streets of the District of Columbia, and with it a flurry of Facebook Ads. Just a few years ago it was noteworthy for a local-level political campaign to experiment with Facebook advertising at all — when DC Republican Patrick Mara talked about using social ads to deliver targeted messaging to the city's gay community and to recruit volunteers five years ago, it was a new trend at the time.
Facebook ads are now a common tool for local campaigns, but what's changed is the sophistication. Look at the three ads to the right, which appeared on Facebook targeted at me a couple of days ago. The first? From Jim Graham, my current city councilmember, who's historically been popular but is also under an ethical cloud. The second is an attack ad aimed at Muriel Bowser, the chief challenger to incumbent mayor Vincent Gray, a man suffering from a few ethical issues of his own. His ad links through to a microsite accusing her of being unready to lead. The final ad of the three is from Jim Graham's chief challenger, touting her agenda…or at least as much of it will fit into the 90 characters allowed in a Facebook sidebar ad.
Not bad tactics at all! We have two positive, highly geotargeted ads for a city council race (I'm getting ads from the correct candidates for my district), plus one negative ad from an incumbent who needs to try to derail an opponent who's doing well in the few public polls that have been released. Digital politics can work at all levels! Even right hear in the D of C.
– cpd