DC votes today for a new at-large city councilmember — hooray for voting! And hooray for sophisticated digital tactics, which are moving down-ballot fast, judging from this race, at least.
First, advertising — around the time that early voting started, I saw ads for candidate Matt Frumin everywhere online. I spotted one first on Epolitics.com; it's embedded to the right. After that, I noticed them on Slate.com and other sites — clearly I was geo-targeted the first time and either geo-targeted or cookie-retargeted (from visiting Frumin's site) thereafter.
The ads led to an engagement-oriented landing page on Frumin's site, which was run through NationBuilder (note the Facebook here's-who-Likes-Frumin panel to the right).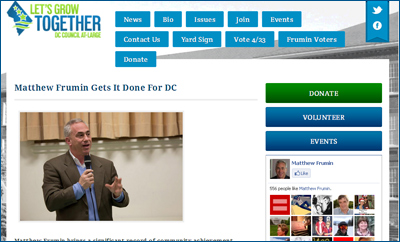 I might have wrapped the text around that candidate photo and moved the email signup form higher on the page, but it's a solid product as-is. And, the site echoes the look and feel of his direct mail print pieces, of which I have received a few. Still, as the Post article linked above notes,
But despite his aggressive print and online advertising campaign, Frumin said it has been a challenge to raise his profile citywide.
Welcome to running city-wide from a far-Northwest power base, my friend! At least Frumin has a lower hill to climb than repeat candidate Patrick Mara, a Republican who supported Mitt Romney in November in a city that went 90% for Obama. It's a special election, though, and very few people had taken advantage of early voting as of this weekend, meaning that a candidate able to pull a core group of supporters to the polls has chance. Mara's answer? Data, according to the City Paper:
Mara says he's learned from his failed runs in 2008 and 2011 how to put together a data-driven campaign that clearly identifies his supporters and focuses its attention on making sure they vote. In an interview last week, Mara said his campaign has already identified 10,000 of his voters, compared to only 6,000 his 2011 campaign had identified at a similar junction.
This race isn't Mara's first experience with digital campaigning; back in 2009 Epolitics.com noted his use of targeted Facebook ads to recruit volunteers in an earlier race. Still, it's a big jump from identifying a supporter (note: a potential supporter) and persuading him or her to show and vote. And as a City Paper commenter noted, trying to cherry-pick supporters via data analysis can be a sign that a candidate can't get broader backing:
A DATA DRIVEN CAMPAIGN IS CODE FOR I NEED ANOTHER WAY TO WIN BECAUSE I CAN'T WIN BY GOING TO AN ANACOSTIA OR DEANWOOD CHURCH ON A SUNDAY MORNING AND SWAYING AUNT GERTIE AND/OR UNCLE JO-JO TO VOTE FOR ME!
I.e., Mara needs to rely on data to find his handful of conservative/white voters because he can't make a case in majority-black parts of town. Zang! In any case, we'll know the results by tonight.
BTW, as of yesterday, I'd received four direct mail pieces from Mara, three from Frumin and one from Elissa Silverstein…they like me! They really like me!
– cpd