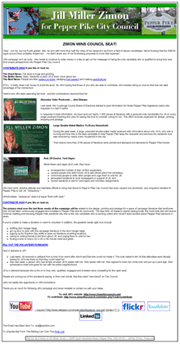 Hey folks, you don't have to have to be a bigshot candidate to have an integrated online presence. For a clear example, take a look at this email from Jill Miller Zimon, who's running for city council in Pepper Pike, Ohio:
Subject: Zimon Wins Council Seat!
From: Jill Miller Zimon For Pepper Pike City Council

Okay – not me, but my fourth-grader. Still, he won with more than half the votes of his classroom and from a field of eleven candidates. We're thinking that the ZIMON signs around town probably helped but … he didn't share any of his fundraising proceeds to cover that expense!

Jill's campaign isn't as lucky – she needs to continue to raise money in order to get out her message on being the only candidate who is qualified to bring truly new and unique perspectives into Pepper Pike City Council.

CONTRIBUTE NOW if you like or read on….
And so on — the message goes on to explain what your donations would be used for, from door hangers to yard signs, and also includes a link to sign up to volunteer. Check out the social networking icons at the bottom (hmmm, one of the images seems to be broken), which feature prominently on the campaign's website as well. Other noteworthy aspects of the site: a supporter list, clear email signup form on the front page (if possible, better to have it on every page), a list of upcoming events, and even a brief tour of Zimon yard signs in their natural habitat.
The verdict: nice job! An excellent site that serves as a solid online outreach hub, but that still has a built-by-your-neighbor look to it despite its advanced features, something entirely appropriate for a local candidate. Plus in this case, it's supported by a solid email message with a compelling hook in the subject line (wait, how did Jill win already??), a clear ask and a well-stated value proposition. A little on the long side, though! Future emails might be shorter and more focused on a specific ask or piece of information, but that's a minor quibble. All in all, good work and an excellent example for campaigns many times the size of hers.
– cpd