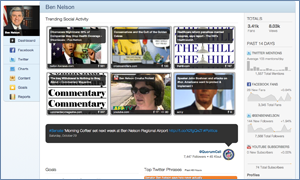 Just launching today: VoterTide, which employs technology originally designed for the music industry and now being applied to politics. Journalists, bloggers and the rest of us can use the VoterTide's basic version to follow the presidential candidates' activity, watching their follower growth, see their trending videos, and measure the "Tide Score" generated by the site based on their activity.
But here's what's particularly interesting from our point of view: campaigns can use the site's Pro version to monitor their own and their opponents' social media presences in detail. Sign up for an account, and you can track a campaign's social media activity, their followings (and follower growth), the most recent and most prominent online stories about them, and the phrases most commonly associated with them online. Of course, a campaign could hand-assemble most of this data on its own, but VoterTide aggregates it automatically and displays it via a straightforward interface. When your campaign or your opponent generates buzz, you'll see it quickly, giving staff and consultants much more time to react.
Check out the screenshots after the break to get a taste of VoterTide. I suspect that this service will turn out to be particularly useful for candidates in crowded primaries and for consultants monitoring many different clients at once.
Screen Shots
Click each image for a full-sized version.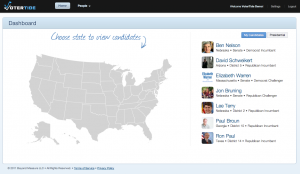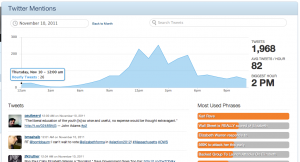 Let me know if you use this tool in an actual campaign! I'm curious to see how it works out in practice.
– cpd