E.politics may only have earned about $40 total from Google Ads so far, but sometimes they yield something even more valuable — a story idea. In this case, check out the ad (screenshot below) that appeared on the site about 10 days ago:

The ad showed up only a day or two after former (Republican) Congressmember Portman announced that he would run in 2010 for the Senate seat currently held by George Voinovich, who is retiring. The ad links through to the main Portman site, which is currently set up with an emphasis on list-building, as the front page demonstrates: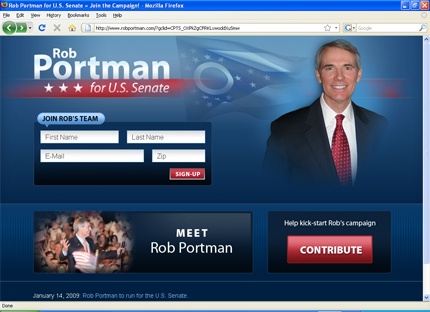 Look familiar? As in, Obama-esque? (clean design, lots of blue, plenty of gradients and fades, that vaguely ethereal feel…). It's also significant that the site tries to position Portman as the only choice for the seat, using selected media quotes to build that sense of inevitability.
The Google ad was clearly targeted at politically related keywords, since it showed up on e.politics, and it may also have been geographically targeted — it wouldn't surprise me if it was only visible to people in Ohio and the DC area. I would also suspect that running ads this early plays into the strategy of creating the image that Portman's campaign is unstoppable, by demonstrating that he's willing to start spending money and building a list this early.
Sounds like an effective plan all around — Google Ads are cheap, targeted and generally have an excellent Return On Investment. And list-building is incremental, which rewards an early start. Other prospective candidates across the country, take note.
– cpd