Cross-posted on techPresident
This just in from my friend Chris Cosart: the time of reckoning is at hand. I.e., the internet is turning its collective "genius" on Sarah Palin, meaning that she's transcended the merely mortal to become a meme. Sarah Palin Is Your New Segway is both inevitable (after Barack Obama is Your New Bicycle) and not entirely flattering in intent, seeing as it's inspired by a Daily Kos diary post (Segways didn't quite catch on, you see, and…).
The genius twist on the original is that the answers to the question "Sarah Palin is Your New…" are generated by readers right before your eyes — hit "reload" and watch the results roll by. The first time I visited, the most recent were "Heartburn Inducer," "Discount LASIK," "Downtown Julie Brown," "Screen Door on a Submarine," and "Royal Crowne Cola." Obviously, lefties are going to have a lot of fun with this one. New view into the zeitgeist? Or just a great way to burn off a little more of that pesky cognitive surplus?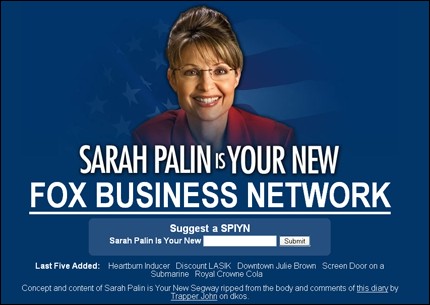 – cpd