Cross-posted on techPresident
Here's a clever idea — install a web browser toolbar sponsored by the Republican National Committee and you can raise money for the RNC "through normal online activities such as searching and shopping." It seems to be a variant of the Yahoo toolbar, so presumably it's some kind of ad revenue-sharing deal with kickback from selected online retailers as well. And of course it contains a communications function, placing an RNC brand and magic "donate" button right on your desktop as well as opening up a new channel for direct messages from the Republican overlords.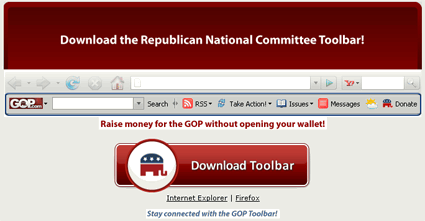 Somebody install it and let me know how it works — sorry guys, but I ain't raisin' a dime for the RNC, even in the interest of science. Update: a couple of folks have written in to point out that the toolbar they're using is from FreeCause and that other organizations are able to use it. You can get more details on the application from FreeCause. Note: at least this time it's not a pink elephant.
– cpd