Ten years ago, internet politics invaded South by Southwest — and I was there to see it. I'd been going to SXSW Interactive since 2003, back when it was a tiny little thing compared with the behemoth it is today. The DC internet politics crowd began to infiltrate the festival in 2006 (the same year I got the idea for Epolitics.com), and by 2008 Julie Germany had already landed a group of us a panel about the internet and the presidential election.
The discussion was great, but in retrospect the real highlight happened later that evening, when a group of us crashed Facebook's exclusive SXSW party, headlined by Mark Zuckerberg (a friend promised he could get us in and greased a door watcher's palm to make it happen). Zuck and I had a brief, awkward yet historic conversation, and the whole DC crowd piled in for the triumphant photograph below.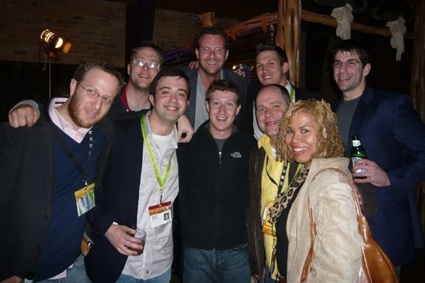 That's the largest version I can find! I wonder if anyone has a better copy. Ten years, baby! Feels like another world. More photos from that day…I wonder if Zuck still asks about us?
– cpd