Here's a new-ish development over at Facebook that should be handy for political advertisers — Fb is now identifying users who are "politically active" based on their interests and interactions. Even better, they've broken us down into conservative and liberal buckets, which is perhaps more straightforward than it sounds, since someone who's a fan of Rush Limbaugh, Mitt Romney and the American Enterprise Institute is probably fairly conservative (this kind of "sentiment analysis" can be a real pain to automate when you're talking about individual social media posts, but I suspect it gets easier when you can figure in someone's overall pattern of social behavior, as Facebook can).
Of course, most political advertisers won't use "politically active" or even "conservative" or "liberal" as a sole audience filter; more often, they'll layer these criteria on top of others such as location and demographics ("give me all women in Michigan identified as liberal and politically active"). And like any online targeting, these identifiers won't be perfectly precise every time — it might make sense for advertisers to run ads aimed at the general public and at Facebook's "politically active" side-by-side and see what the results are, at least as an initial test. Still, this new filtering layer should be handy for those of us in both the advocacy and election worlds. Privacy fans will be less-impressed — i.e., Facebook "knows" I'm liberal? Creepy….
Screenshot of the new targeting option In Action is after the break.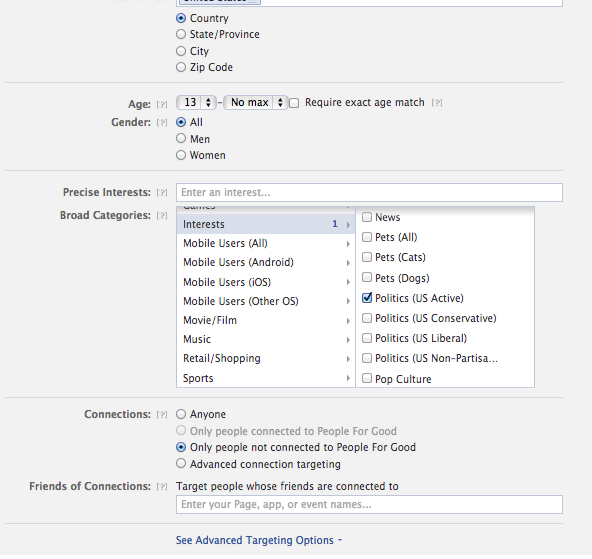 – cpd