New Design Project: SaveBristolBay.org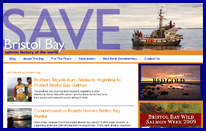 Huzzahs all around — a new Drupal project I worked on has gone live! On this one, I got to do the fun part (the design work) while a tech firm handled the process of turning it into a functioning website. It's for an organization attempting to protect Bristol Bay, Alaska and the people and industries that depend on it, and we were lucky enough to get to work with some absolutely stunning photographs. Check out the header fade on the front page — came out better than I would have hoped, particularly the color transitions in the text portions.
My part ended as soon as I handed in a photoshop file and the final images for the topbar (along with a site marketing plan), and it's always fascinating to see to how your idea gets translated into a working site — take a look at the final design comp and check out the differences. In this case, the site's last details are still under construction (I hope they'll add the blue bar that frames the topbar in the original design, for instance, plus the site lacks a real HTML title, an SEO no-no), but it's great to see it finally go live. And this project has opened up a potential new line of business, creating designs and templates for technology firms building sites in Drupal and WordPress. In an economy that still ain't looking too pretty, it never hurts to have a new angle.
– cpd