Birth Announcement! IBI2010.org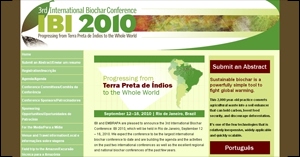 The day job may be needy these days, but that doesn't mean we can completely ignore old friends and clients. So, while getting ready for last month's Spain trip I also got to design a small site for an upcoming conference organized by the International Biochar Initiative (stars of the first Drupal site I built, if you recall last summer's excitement).
The IBI2010 site's built in WordPress and designed around the excellent logo they'd already had prepared, and the site's layout and color scheme are intended to pivot off of the original IBI site while still being distinct and unique. Otherwise, the site's very simple — besides running parallel page structures in English and Portuguese, the only "advanced" feature it has is a submit-a-presentation-abstract form, which we'll replace with an actual conference registration form when the time comes. But simple as it may be, every site is its own little challenge, at least on the visual front. Plus, it never hurts to have a little something in the freelance column come tax time….
– cpd