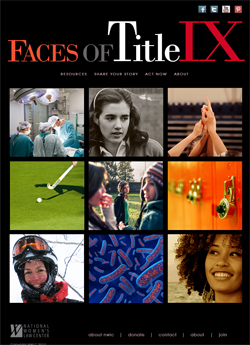 One reason Epolitics.com has been so quiet lately? The sweet lassitude of summer has sung its siren song for sure, but I haven't yet succumbed — too many projects have demanded a delayed start to the season's easy livin'. A major one went live late last week, and my NWLC colleagues and I have been busy promoting it since: check out the new Faces of Title IX, which tells nine stories of women and girls whose lives have been changed because of the law that guarantees equal access to educational opportunities.
This site was a true joy to work on, since we focused almost entirely on storytelling and design. The result is a gem of an online presentation, and I've been told to warn you to have tissues handy when you read the stories (my soul is too cold and jaded to notice, of course).
Note that behind the site's surface simplicity lie literally HUNDREDS of hours of work: among many other contributions, my NWLC colleague Melanie Ross-Levin came up with the idea, comms guru Maria Patrick spent weeks gathering and editing the stories, Maria and our in-house designer Beth Stover created a layout that I think is drop-dead gorgeous, Rad Campaign built the Drupal template and the technology, our Education/Employment issue team pulled together the background resources, and our whole staff helped spread the word. My part? To help translate Maria and Beth's vision to the web, which involved everything from strategic thinking to technical specs to a lot of detailed CSS work.
Political communicators rarely get to build a project like this one, more focused on creating a mood and telling a story than on sparking immediate action on a pressing problem. It was a true joy.
– cpd