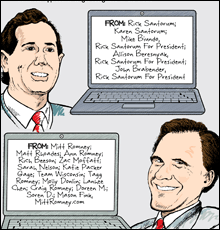 The folks at Silverpop, a "digital marketing technology provider that unifies email marketing, marketing automation and social media solutions," have sent over an interesting infographic that looks at how the Republican presidential campaigns are using email, a subject of interest in itself but particularly after Jon Stewart's takedown of Barack Obama's "bro-mail" fundraising messages last week. The actual infographic is below the break, but here are some of their top-level findings:
Email Length: On average, Mitt Romney's emails are the shortest of the 4 GOP candidates. He was normally under 200 words. Meanwhile, Ron Paul's emails were, by far, the longest. His email length approached 600 words. With email outreach, in general, often brevity is key (voters get a lot of emails, they generally don't read them all, so being concise can help).
Social Media: Mitt Romney and Rick Santorum were the best at integrating social sites such as Facebook, Twitter, Google+, YouTube and Flickr, into their emails (Romney was the best). Newt Gingrich and Ron Paul were the worst. Driving voters to community-building social networking sites can be important to activating offline success and cultivating sustainable support.
"From" Lines: Rick Santorum used 5 "from" names for his emails, whereas Mitt Romney used 15. Would you rather get an email from "Mitt Romney" or his campaign manager? A basic lack of familiarity can lead to deletion in the inbox.
Donation Requests: Rick Santorum's emails featured an explicit donation more often than Mitt Romney's emails (92% VS 72%). The disparity likely speaks to where the two currently stand (Romney is leading, Santorum is the underdog).
For more, see the graphic below:

[
Click here for a REALLY big version
]
– cpd