Tracking the Louisiana Oil Spill's Effects through Social Media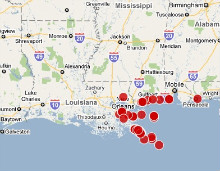 Here's a fascinating use of a crowdsourcing technology called Ushahidi, originally developed to track election violence in Kenya: as the Times reports, a group called the Louisiana Bucket Brigade is employing the distributed reporting tool to let local citizens help track the fallout from the rig explosion and oil spill in the Gulf of Mexico. As reporter Sarah Wheaton notes, relying on the public's input will help the group highlight more than just physical damage to the land, water and wildlife, since the system can also track economic effects such as unemployment and idled fishing boats.
The information collected will no doubt be particularly valuable once it's cross-referenced with satellite imagery and measurements, as well as with data on water quality and such collected by scientists working in the Gulf and on the coast. It's a great example of how modern social tools can expand the universe of people able to contribute to the policy debate, since every data point on the map will represent a real (rather than a theoretical or anticipated) effect of the spill. A terrific idea, and thanks to A Loyal Reader (my dad, and the guy behind two crowdsourced projects himself, the legendary MultiMachine and the local-energy-focused Project Genny) for sending it in.
– cpd