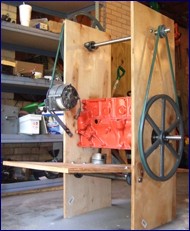 In his latest bid to Save The World, my father's come up with a way that folks in the developing world can build their own local electrical generating systems. His invention is human-powered (using a treadle, like an old sewing machine) and can charge old car batteries that then provide electricity for night-time LED lighting (so kids can read!) and cell-phone chargers.
Like its parent project, the MultiMachine, Project Genny (for "Generator," get it?) relies on scrap material that's available all over the world, in this case an old car alternator to convert motion into electricity. This sucker could transform lives in so many ways it's not even funny: besides charging economy-altering cellphones and giving children the ability to study after dark, it can help in areas ranging from health (the kerosene lamps currently typically used for night-time lighting are terrible on the lungs) to economics (kerosene can suck up 25-30% of a family budget) to global warming (kerosene = carbon emissions).
You can help spread the word, but time's tight! Dad just found out about a Peace Corps Foundation competition for development projects last week and got his entry in under the wire. Voting ends today (Sunday), so please swing by the site and cast yours now! Be prepared — you'll need to give 'em an email address and click on a confirmation message first. Regardless of the outcome, this contest isn't the end for Project Genny (or the MultiMachine), so keep an eye on this space for more to come.
– cpd