Regular contributor Beth Becker has a new toy! And is happy to share it with us.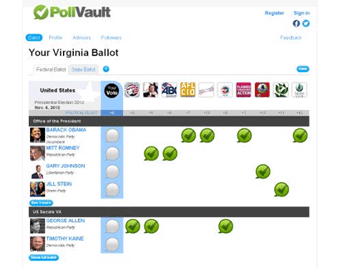 PollVault: 'Crowdsourcing' Your Voting Decisions
By Beth Becker
From time to time I come across a new media/social media tool that can really make a difference in the world. The newest of these would be PollVault, sort of a Cliffs Notes ballot guide for Voters.
PollVault's user-friendly design allows voters to crowd-source ballot advice, or crowd-poll, seeing the ballot opinions of organizations and people they trust. The result is a ballot discussion happening within an easy-to-read grid showing the voter's virtual ballot next to the endorsements of a personalized, ten-member advisor panel, which now includes organizations as diverse as the Sierra Club, the NRA, The Human Society and GoProud, as well as one's friends, neighbors and family. Over time, the advisors will expand exponentially to include everyone from celebrities, to artists, to Hollywood directors, movers and shakers in the financial world and Washington power brokers.
One thing that's important to note: privacy is truly in the hands of the user. No one can see whom you've endorsed unless you allow them to.
So how does it work? From the voter's perspective, it couldn't be easier. You log in, give the tool your address and zip code and it pulls up what your ballot will look like when you go to vote. Then the fun begins. You can choose up to 10 advisors, which means you can see who they've endorsed/who they would vote for. Organizations* that have made endorsements relevant to your ballot are options and you can also choose to connect PollVault to Facebook and ask your Facebook friends to be be your advisors. (Again, they have to allow you to see their choices, such viewing is not automatic.) Once you've made your advisor choices you can then make your own decisions and be ready to go vote.
* Organizations that wish to have their endorsements listed on the site as advisors can send an email with all of their endorsements or simply a link to a webpage that lists their endorsements to contact@pollvault.com
Thanks Beth! – cpd