It's been a busy couple of weeks here in the Lone Star State: besides dancing with armadillos and tossing the occasional grenade, I've been wrapping up work on my second Joomla site, We Are Wetlands. It's a project of the Theodore Roosevelt Conservation Partnership, a long-time client whose main site I'm also in the middle of rebuilding (they have a custom CMS circa 2002 that's flat-out abysmal). The site's aimed at ginning up an email list of people in favor of wetlands protection.
WeAreWetlands.org itself is tiny, but I still got to use a couple of interesting Joomla features on it anyway. First, the Joomla native Newsflash plugin turned out to be perfect for a rotating "Did You Know" piece on every page — it pulls properly tagged items out of the database and displays a random one on each page (below the nav links). And, a free guestbook extension worked fine for their "Bog Blog," which is a simple submit-your-content feature.
This was also the first time I've worked with a DemocracyInAction account, which turned out to be a joy after years of fiddling with GetActive (sorry, friends at GA). The setup was extremely easy and the site was free of the kinds of stylesheet clashes that have been maddening on other systems. And, their API works (unlike GA's, which is no longer supported), so it was also easy to port the petition over to the main Wetlands site and have it interact with the DIA database seamlessly. Expensive legacy providers had better watch out — DIA's gonna be eating into your bidness right quick.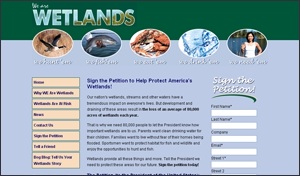 – cpd