New Epolitics.com contributor! Brent Merritt is a digital strategy consultant at Metric Communications, LLC. Check out his recommendations for list-building via digital ads below, and when you're done, be sure to browse past Epolitics.com articles on the same topic. Take it away, Brent:
Amidst the proliferation of digital communication channels candidates can use for outreach (looking at you, TikTok), staid old email remains a vital tool for the digital campaign operation.
Despite the importance of a campaign's email list for fundraising and mobilization, even some national-level candidates are reportedly failing to build their own lists, instead opting for the less effective — and frankly, lazier — approach of list rental.
Although email list rental remains more common among Republican campaigns, campaigns of either party really have no excuse not to take advantage of the powerful list-building capabilities digital ads offer.
Fortunately for anyone interested in getting started with list building ads or refining their current approach, excellent models from the 2020 presidential campaigns abound.
Below is an overview of five main tactics campaigns consistently use in their digital list building ads, with examples pulled from Facebook. The potential variations are endless, but there's a reason these same themes show up in pretty much every campaign's ads: they've been tested and proven to work.
Solicit petition signatures
Email address-collection ads, which in the digital ad world are known as lead generation ads, are fundamentally about an exchange of value. You give me your contact information, and in return, I give you something you want. In the case of petitions, one of the most frequently used tools to collect leads, the value offered to prospects is the opportunity to help move the needle on issues they care about. [Ed. note: great point.]
Perhaps the most prominent example of petition-based ads this campaign cycle is from Tom Steyer. His "Need to Impeach" petition ads offered audiences a chance to "Demand Congress Impeach Trump" in exchange for their name and email address; the list of more than 8 million leads generated by the petition effort later became the launching pad for Steyer's presidential campaign.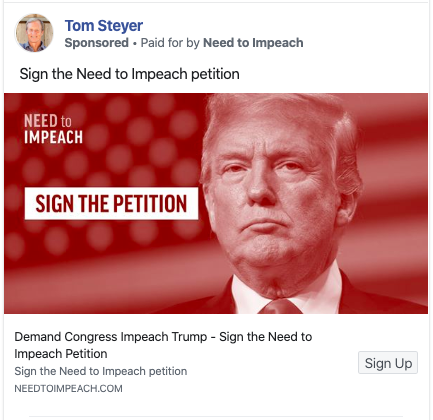 Ask for survey responses
The value proposition for survey ads is relatively straightforward: provide your personal information and get your voice heard. Or as this example from the Biden campaign frames it, "Tell Joe what's important to you."
Although the likelihood that the candidate gets handed a stack of these survey responses to review every day is precisely zero, the opportunity to provide input will be too good for some potential supporters to pass up. Additionally, there can be actual value for campaigns in the survey responses. For example, the questions on the Biden survey can help the campaign identify who's a likely voter, their level of support for the candidate, and whether they may be interested in volunteering or donating.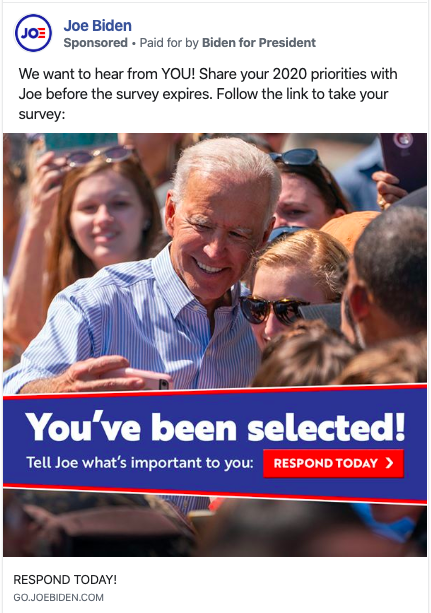 Share an event invitation
Invitations to events provide prospects a chance to meet like-minded supporters, feel like part of the political process, and in the case of big rallies, play a role in creating large-scale political theater, all in exchange for a quick signup with their personal info. Massive Trump- and Sanders-style stadium events can collect lots of leads at once, but even a small neighborhood get together could motivate potential supporters to join your list.
In this example, Senator Sanders enlisted Alexandria Ocasio-Cortez as an extra draw; reportedly, their combined star power attracted more than 25,000 people to the event.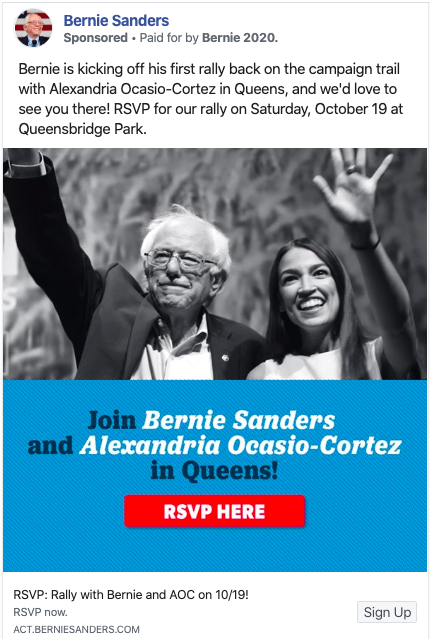 Run a contest
Campaign events are exciting, but for some supporters the chance to meet a candidate one-on-one is a dream come true. That's why you'll see so many campaigns running contests that offer a chance to meet the candidate in return for your contact information (or in many cases, a donation).
This ad from the Warren campaign demonstrates the basic setup: just sign up on the landing page, and you're entered to win a meeting with Senator Warren with your travel expenses paid. The contest prize doesn't have to involve the candidate directly. It can be a meeting with the candidate's spouse, family member or surrogate, special merchandise such as the millionth MAGA hat, or anything else a supporter would find valuable.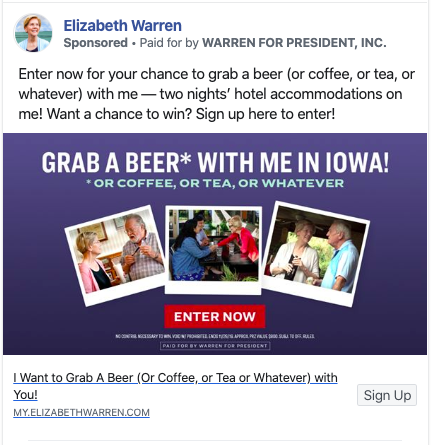 Gather birthday wishes
One final classic of the lead generation genre is the candidate birthday card. This provides people a chance to share their warm personal wishes directly with the candidate. As you can see on the landing page for President Trump's "OFFICIAL" birthday card ad, sending your personal message is dependent on also providing your contact information. (Again, don't hold your breath that the candidate will ever actually see this.)
As with the in-person meeting tactic, birthday cards can be launched for just about anyone associated with the candidate or the campaign, including both human and furry family members.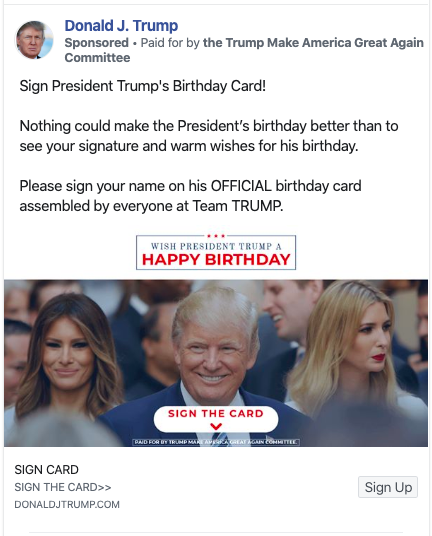 The Possibilities? Endless
Although these tactics are among the most frequently used and effective for email list building with digital ads, there's really no limit to the potential variations. Fortunately, the major platform ad databases are a great source of inspiration if you want to get creative.
In Facebook's Ad Library and Google's Political Advertising Transparency Report database you can search for ads by advertiser, candidate or keyword (e.g., search "birthday card" plus a candidate name to see examples of birthday card ads). Also, even though Twitter banned political ads on the platform in November 2019, you can still access their database of old political ads and browse by advertiser to see the approaches campaigns were using prior to the ban.
Digital advertising tools for email list building — and examples of how to use them — are more accessible than ever. Invest the time and money to use them properly, and you'll never again have to rely on a hand-me-down email list of someone else's supporters.