Update: A couple of Loyal Readers sent in articles about a Rand Paul fundraising video released Friday that may have broken Senate rules by using footage from a speech on the Senate floor. Oops! Still, that error doesn't take away from the good practices described below. But it does point out one of the many hazards of running for President when you're a sitting Senator.
---
Guess what: a political candidate is using the internet to leverage the attention he's receiving from taking a public stand on an issue. Yes, it's no surprise that Rand Paul would try to build his campaign supporter list and raise money via his attempt to derail Patriot Act renewal, but the mix of strategies and tactics displays some real digital savvy.
Email List-Building and Fundraising
First, the campaign emails, which demonstrate an appreciation of the vast array of tricks perfected by Democratic campaigns, party groups and other political organizations over the past few election cycles. Some examples:
May 30, "I'm forcing the PATRIOT ACT to expire".
Plain text, no images, links to a "Sign your "STOP SPYING ON INNOCENT AMERICANS NOW" Petition" page, where you can "Join the Filibuster" — clearly a list-building exercise. Note that this "NSA Spying Showdown" page frames the issue as Rand Paul vs. Obama, not Rand Paul vs. the Republican establishment in the Senate.
May 29 (PM), "FW: Please contact Colin".
First line: "Colin, Rand asked me to reach out to you." Apparent sender: alexandra4rand2016@gmail.com. Actual sender: info@randpaul2016.com. Action: "Moneybomb" contribution ask, with pre-set donation amounts linking through to a fundraising page. Interesting angle: the page includes an "Optimizely" script, which helps the campaign A/B test landing pages. And, the Optimizely technology derives from the Obama 2012 campaign but is now commercially available…obviously, including to Republican candidates.

May 29 (AM), "This is serious".
Apparent sender: randhpaulmd@gmail.com. Actual sender: rand.paul@randpaul2016.com. Action: moneybomb fundraising page. Content: plain text.
Note the mix of tactics in just these three messages:
Varied senders, including the candidate (not really, but you know what I mean)
Varied asks, including one that's not an immediate fundraiser
List-building, not just fundraising
Personalization
Varied (and catchy) subject lines
Lots of text in short snippets (no long paragraphs), but bright colors/images for donation pre-set amounts
Landing page optimization (which also implies email A/B testing)
Somebody's been paying attention to developments in the field….
No Google Ads?
Surprisingly, I didn't see Google Ads run by the campaign when I searched for "USA Patriot Act", "Patriot Act renewal," "Rand Paul", etc. But, I'm in the District of Columbia, and he may have ad campaigns in place targeted other locations like swing states that I can't see. Still, why not run a few ads everywhere?
Website Splash
The Paul campaign IS going out of its way to catch website visitor via a splash screen highlighting the Patriot Act, which will no doubt intercept plenty of people looking up the candidate on Google this weekend. If you sign the petition, note that you stay on the spash screen but a donation ask pops up. Clever!
And all around, a sophisticated mix of tools and tactics, a sign of a team that has its online act together. Should other Republicans (and Democrats) be nervous?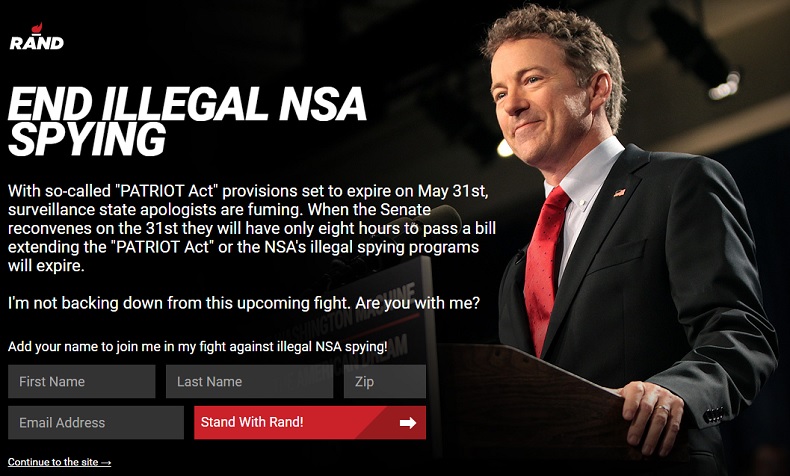 – cpd