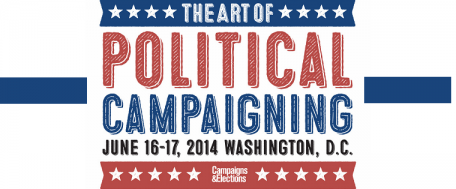 Art of Political Campaigning, June 16-17: Get Your Discount Code
A quick reminder: Art of Political Campaigning two-day training event is coming up next week Put on by our friends at Campaigns & Elections magazine, it's an in-depth exploration of practical political topics, with sessions delivered by people who do this work every day.
Best of all, since you're an Epolitics.com reader, I have a special present for you: a discount code that'll knock a serious chunk off the price. Register with the code "AOPC2014CD", and you'll receive a lower entry price of $465 — a BIG discount on the full price of $625. Nice! So check out the agenda and see if it looks like your kind of scene, and note that Beth Becker and I will share a stage on the first day of the conference, and I'll be moderating a second panel that day as well. I hope to see you there.
– cpd