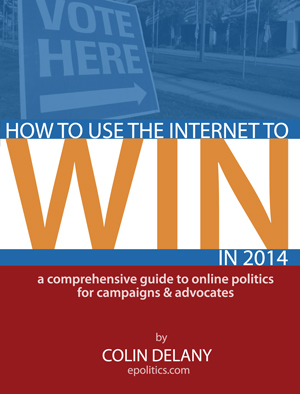 2014 starts tomorrow! Are you ready? Let's check: how's your online communications infrastructure? Your content strategy? Your advertising targeting plan? Your social media outreach strategy? Your plan for list-growth? Fundraising? Grassroots mobilization? If you need help with any of these — or with planning your online marketing, advocacy or election-winning campaign in general — I can think of a good place to start: the new ebook, "How to Use the Internet to Win in 2014: A Comprehensive Guide to Online Politics for Campaigns & Advocates."
Download your own campaign plan today (as an ebook in the Kindle store or your own personal PDF) and feast upon chapters including:
The Internet: What's It Good For?
Essential Tools and Infrastructure: Creating a Basic Online Campaign
Preparing an Outreach Outreach Strategy
Social Media
Online Advertising
Grassroots and Field Organizing
Mobilization and GOTV
Online Fundraising
Data and Analytics
Logistics, Budget and Staffing
A Sample Campaign Plan
Today's your last chance to get ahead of the curve and get your copy BEFORE 2014 rolls in. I guarantee, you won't be let down. And if yours is already firmly in your electronic grasp, please help spread the word!
– cpd