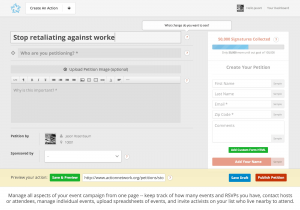 Congrats to Jason Rosenbaum and the rest of the team behind the Corporate Action Network's new online toolset! Optimized for local organizers but useful for larger groups as well, the new Action Network platform officially launched this week: check it out here.
I've gone to a couple of preview sessions to get an early glimpse of the new system, and it's impressive — basically, it takes an online organizer's essential tasks (list-building, list-management, petitions, actions, mass emails, etc.) and makes them easy for newbies to tackle. Anyone who's used earlier generations of advocacy CRM (Constituent/Customer Relations Management) technology will attest to the fact that most had interfaces that were cryptic on a good day, creating a big learning curve for anyone trying to use them out of the box. Plus, most were expensive (Salsa and NationBuilder excepted), meaning that small orgs and individual activists were limited in what they could choose from.
Another democratizing factor: CAN's The Action Network is free to most lone organizers and small groups (it's essentially Lefties-only, though). And, it's designed to make it easy for groups using the system to run joint list-building/issue-promotion campaigns, helping folks leverage the power of an extended network of support.
The Action Network is just one of a set of technologies that could finally allow the internet to deliver on its promise of shifting power down the ladder — like cheap online ads targeting members of Congress, a straightforward (and free) organizing platform should let local activists raise hell in 2014 and beyond. Can't wait.
– cpd