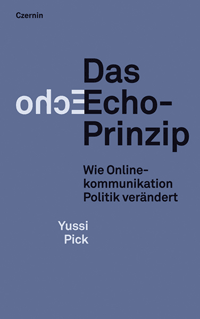 Excellent news! If you're looking for beach reading, my former NMS colleague Yussi Pick has just written a new book you should definitely check out. Though, it might be more appropriate for a trip to the Bodensee or the Baltic than Ocean City, since "Das Echo-Prinzip" is published in German.
Regardless, the subject is right on target for y'all, since the title translates to "The Echo Principle: How Online Communications Changes Politics"." I've seen an outline in English, and the book looks to be a comprehensive internet-politics introduction and overview for German-speaking audiences, covering essential concepts, tools and tactics. Nice work!
Plus, Yussi's a good guy to write it (besides being a good guy in general), since he's seen plenty of the field in just a few years. After hanging out with me at New Media Strategies while he was getting a Master's at AU, he hopped over to MSHC for the 2010 campaigns, then worked with Amy Gonzalez at Blueprint Interactive. These days he has his own firm in Vienna, and with a book under his belt, he's a double threat — experienced consultant, published author. Not bad at all, and congratulations! Beer's on me next time.
More Digital Politics Beach Reading
Other recent recommended books, for the long lazy days of summer:
– cpd