The second (and final) segment of Beth Becker's latest thinking on social media.
Rethinking Social, Part Two: Optimizing Content for Social Sharing
By Beth Becker
In the first segment in this two-part series, I briefly explored the idea that social media isn't just about being social, but is now about social sharing. Today I want to explore how this subtle shift in thinking should affect the content we produce. How do we optimize it for social sharing?
First, Content that is visual or audio is more likely to get shared. With the constant bombardment of online of messaging, visual messaging caters to our increasingly short attention spans. I recently saw an infographic on Pinterest (surprise?) that indicated that over the last 10 years our attention span has gone from an average of 12 minutes to 5 minutes. In a 2010 NY Times article it was stated that on average approximately 44% of the audience will stop watching a video after the one minute mark and 10% will abandon the video after just 10 seconds. [Ed. note: I'm surprised the number is only 10%!]
Think about that and then ask yourself, so how do we keep people engaged? My answer to that will differ, based on what the content is and what the goal is of sharing that content, but it's an essential question to address when creating your social media strategy. However, part of that answer lies in the power of the visual — explains the popularity of sites like Pinterest and Upworthy. When a powerful image catches our eye, we're moved to want more information. We'll then spend the time needed to find the non-visual content [Ed. note: i.e., words and stuff] that explains what we're seeing.
Second, concentrating on the number times you posts to a particular platform is a mistake. If you're posting ten things a day but none of them is getting shared — instead of posting two things a day that being shared widely — you're missing out and possibly even annoying your audience. Just putting content out there won't bring success anymore [Ed. note: if it ever did!]. The social audience gets more savvy and demanding every day, and we as content producers must constantly evolve our thinking and strategies to exceed — let alone meet — their demands.
Third, content needs to be unique. Again, visuals that stand out draw attention and get shared. In recent presentations I've been demonstrating this fact with the following screen shot from Pinterest: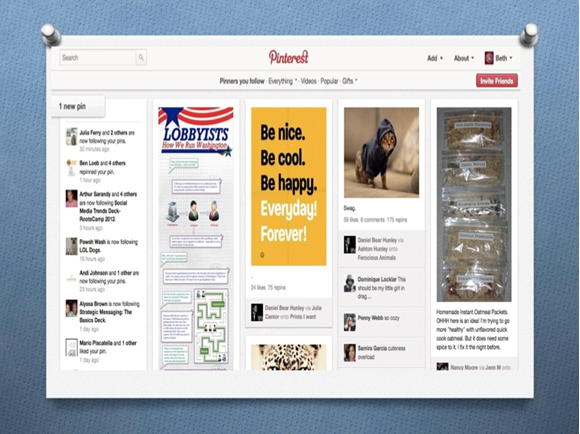 Take a minute and then consider which of those 4 pictures caught your attention. Most people answer that the picture of the cat in the hoodie caught their eye first. Why? Because you don't expect a cat to be in a hoodie. It's different. Some will say the "Be Nice Be Happy" caught their eye first. Why? The bright yellow background and large, clear letters. The "lobbyists" infographic to the right of the yellow only seems to catch the eye of those who are thinking about that topic at the moment. The food picture? Which isn't even obviously a food picture? It's never been named as the first thing someone noticed.
The lesson here is obvious: content must be clear, bold and yes, different, to attract attention. But the visual is only the first step. The non-visual content associated with the visual must also be of high quality if someone is going to take the time to share it with his or her audience. [Ed. note: those pesky words again! They're key to the second part of the equation, which is the need to convert sharing into action/signups/follow-through.]
The bottom line is this: We can spend hours creating the most envelope-pushing strategies for online message delivery, but if we don't have content that is actually WORTH sharing, we'll be wasting our time.
What are some of the hints you have for creating quality content? Share them in the comments or let's continue this conversation over on Twitter, I am @Spedwybabs and we can use the hashtag #socsharing.
Thanks Beth! Hmmm, is that Pinterest screenshot in there to make this article more share-friendly? Nice move.
– cpd