Cross-posted on techPresident
What matters at the polls? The candidate, the message, and the moment: everything else just sets the stage. You can have every endorsement in the state, tons of money in the bank, a flashy online volunteer-mobilization center (see screen-capture below), the endless attention of political observers around the country — and still lose badly.
In this year's Virginia Democratic gubernatorial primary, Terry McAuliffe's national prominence and fundraising prowess had one measurable outcome: he spent $90 for every vote he received, and no doubt made a lot of local television stations very happy in the process.
The political class in this country (the pros as well as the journalists, pundits and bloggers who follow them) tend to emphasize the mechanics when they talk about politics, I'm sure because it's something that fascinates them (and me). But voters make choices based on a lot more than television ads, and in McAuliffe's case they don't seem to have wanted to take that package home. Like so many candidates before him (Phil Gramm in 1996, Hillary Clinton in 2008), he found that endorsements or a large starting bank balance don't guarantee enough votes to win. And like Ron Paul a year or two ago, he found that a strong online organizing effort only works if you're selling something that enough people want to buy.
A broader lesson for Republicans and others out of power — yes the mechanics matter, but having the right tools is no more important than having the right person with the right message at the right time. Build the tools, certainly, but build your base of strong candidates right along with 'em. Smart politicians think years (decades?) ahead, because you never know when that opportunity will come.
[BTW, my apologies for the paucity of recent posts on e.politics — the cat's been cryin' for her dinner, too, but I should have a couple of solid Drupal-based advocacy websites to show off shortly.]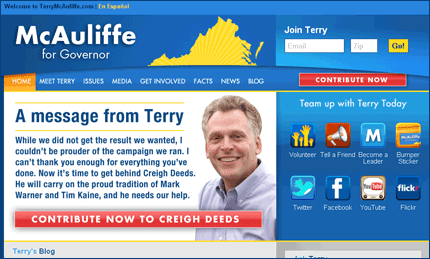 – cpd