Here's a clever little application from the Democratic Congressional Campaign Committee: the Republican Apology Machine, which lets you send a nice note to Rush Limbaugh "from" any of several Republican notables (including Michael Steele) begging the radio star's forgiveness: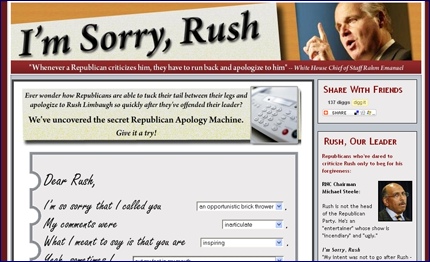 It's almost but not quite a mad lib (pun fully intended), since you can choose your own text at several points in the note, but only from a list of pre-selected snippets except in a roll-your-own P.S. at the end. Still, it's clever, it catches email addresses (hmmmm, no opt-out button?) and it sends you to a tell-a-friend page once you've filled out the form. Plus, it really does a nice job of reinforcing a current Democratic talking point, that Rush is the de facto leader of the Republican Party. Good work, and thanks to Kerri Karvetski for sending it around.
Update: The anti-Rush messaging continues, this time with a social media angle: now the Dems want to hear YOUR slogan for a billboard in his hometown.
– cpd