You know, all this "hope" talk lately has been getting to me. Maybe it's my father's roots in Louisiana, where the cash is in the freezer, or perhaps it's my mom's ties to Arkansas, where outsiders just don't understand the special relationship that can exist between a building contractor and a politician. And then there's my own time as staff in the Texas Legislature, a period highlighted by the prosecution and resignation of the fourth House Speaker in a row(!) for ethics violations.
Whatever the reason, I expect something different from our elected officials, and Obama just doesn't seem to want to deliver. A cabinet of pragmatists? Only if they're "pragmatic" enough to know on which side their bread is truly buttered. Inclusive politics? Yeah, if by "inclusive" you mean that the people who get screwed "include" just about everyone. Transparency? Impartiality? Rationality? All crazy talk, at least in the American politics I know and love.
And then, like a gift from heaven, here comes Illinois Governor Rod "bleeping valuable thing" Blagojevich to put the stars in their rightful places in the political firmament. Holding a children's hospital's funding hostage while waiting for a bribe? Check. Trying to get a journalist fired in exchange for financial support for a newspaper company? Check. Planning to sell the opportunity to fill the Senate seat of the most squeaky clean politician Illinois has produced in a generation (and the current Messiah of the Western World)? Check and mate — now THIS is politics that makes sense to a Southern boy!
In honor of The Good Governor's achievement, let us now unveil a new award, to be presented only to political figures who rise above their circumstances to show truly awe-inspiring chutzpah and stupidity. Rod Blagojevich, you are the first recipient (and namesake!) of the Epolitics.com/Rod Blagojevich Balls Of Steel AwardTM and will receive a Very Special statuette to be modeled on the classic photo below: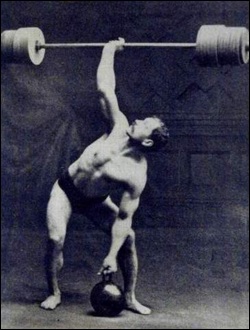 Awards ceremony time and place TBD, probably at a federal prison near you. Thanks Rod! You will no doubt be an inspiration to a whole new generation of politicos wondering where they fit into Barack Obama's America.
– cpd