New Client Site: TRCP.org
Finally! After a few weeks of hair-pulling and the banging of heads on desks, the new TRCP.org is launched. We're still adding some content, details and features, but the basic structure's in place, and e.politics can finally break the shackles that have bound us to this laptop for approximately forever. The site's running on Joomla and uses almost entirely native Joomla features, with a few plugins for special functions. But, so far at least, no high-end programming needed — my crude hacking was enough to get it working just fine. Time to send an invoice!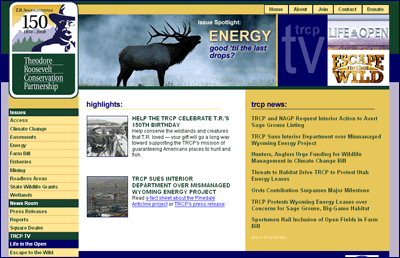 I've been working on relatively small and short-lived advocacy sites for so long that I'd forgotten how much work goes into an actual organization site — more content always equals more features and more customization. You're also talking about an organization's public front, which they'll live with for years, so every little bit matters. Next time I do one of these, which'll be a while, we're crankin' up the rate…. For now, back to consulting — design work is fun, but man it's a tough way to earn a living.
– cpd