New Client WordPress Blog: TodaysWorkplace.org
Summer slow-time, where did you go — this August has been BUSY. The latest project? Assist Paula Brantner at Workplace Fairness as she rebrands and relaunches the organization's blog, which she's overseen in one way or another since 2003(!). Paula's been working with Turner Strategies on the organization's overall online strategy, and I got the call-in to design the blog based on Turner sketches, and then build out the new version in WordPress and optimize it for effective marketing. The result is below, and though we barely made the deadline, it survived a potential shredding at Tuesday's NetSquared "Pimp My Nonprofit" session without harm.
Some observations: doing a custom WordPress template is NOTHING like building one out in Joomla — by comparison, WordPress is an intuitive joy. Yes, Joomla lets you do a lot more, but it'll also drive you to drink and/or violence. If WordPress had a "frontpage" module and a more robust way to handle static pages, you could easily use it produce sites that have a blog but aren't *just* a blog. In that case, it'd really give Joomla, Drupal, et al, a run for their money for smaller sites.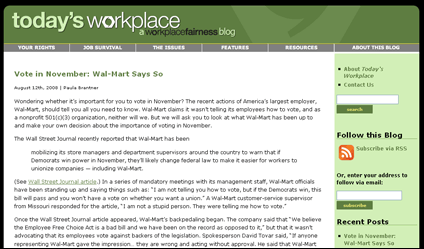 – cpd