Breaking news from Facebook Algorithm World, and this is important!
Individual Facebook users now have access to a new setting available called "News Feed Preferences"…you can find it on your own profile by clicking on the dropdown link in the top right of the page: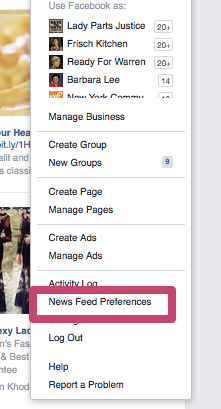 And when you click on it, here's what you'll see: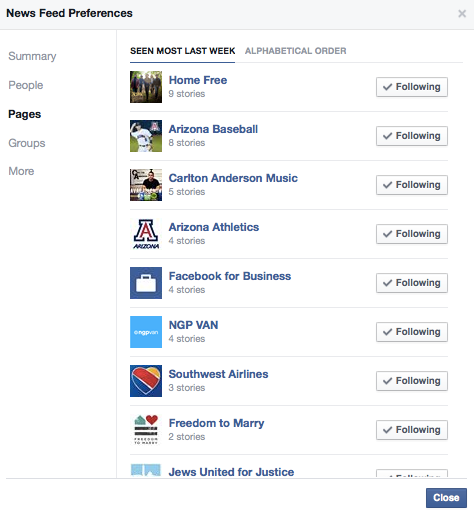 So far, a list of Pages, People and Groups you follow, with the option to Follow/Unfollow any of them. Back in November, Facebook first released the News Feed Preferences menu, but it was only for friends. Now you can set preferences for Pages too: as I understand it, Unfollowing a Page and then Following it again tells Facebook that you're interested in content from that Page, meaning that you should see more of it, at least for a while. Down the road, it opens the door to the potential for more fine-grained user management of the content Facebook shows in the News Feed.
Why is this so important? Well, y'all may have seen the post I wrote last week about how Facebook made a recent change to the algorithm that prioritized posts from friends in the News Feed…penalizing Page content in the process. This NEW setting offers the hope that your your community will be able to to tell Facebook to continue to prioritize your Page's content.
Education is going to be the key here! If your followers don't KNOW to prioritize your content, they won't do it. Stay tuned, Colin Delany (editor of Epolitics.com) and I are planning to do a webinar in a few weeks with more tips about things you can do to educate your community to help you maximize your reach on Facebook.
Ed. note: it's a true fact! More to come….