ActionSprout's Kim Blomgren writes up a presentation by our own Beth Becker. Way to get someone else to do the hard part, Beth. 😉
Recently Beth Becker and ActionSprout hosted a webinar addressing how to make Facebook's algorithm work for nonprofits and political organizations. I give the Webinar — and Beth's advice — two thumbs up because anyone looking to engage Facebook users must contend with the Facebook algorithm, and Beth does a brilliant job in making heads and tails of it, sharing five important hacks to maximize your Facebook strategy. Without further ado, here are Beth's hacks:
Hack 1: Don't Ask for Likes/Shares
The Facebook algorithm is based on a series of data inputs and you can bet that if Facebook says not to do something, they've incorporated that input into their algorithm. So, when Facebook announced that page managers shouldn't ask for likes and/or shares because it turns off users, you can bet that posts that do this will be penalized by the algorithm. Instead, ask people for an action — such as JOIN, WATCH, or SIGN. Open ended questions and active engagement get more reach.
Pro Tip: Don't ask for Likes or Shares. Doing so will net you less organic reach and less engagement. And, let's face it, doing so trains your audience to be lazy instead of engaged.
Hack 2: Upload Native Videos
For organic reach, you really can't beat video. In fact, according to recent research by SocialBakers, video garnered an average organic reach of 8.7%, greater than any other post type.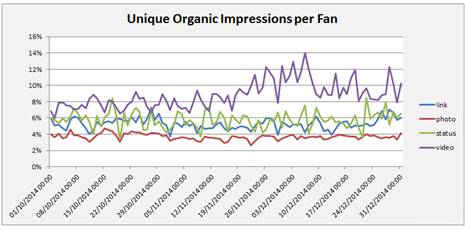 However, the debate over native Facebook video or linked video rages on. Luckily, Beth shared the results of her extensive A/B testing in which the results were clear: Native Facebook video significantly outperforms linked video. Why? Native video keeps users on Facebook and is therefore rewarded by the algorithm.
In this vein, page managers should also note that the average viewing time of a video on Facebook is 45 seconds. For this reason, if your video exceeds two minutes, consider editing it into a teaser with a call-to-action that drives viewers to the full-length version.
Pro Tip: Native Facebook video two minutes or less in length is the way to go to maximize video views.
Hack 3: Link Sharing
Link posts have gone through several iterations over the past couple years. Keeping with that trend, Facebook recently announced an expanded native thumbnail image in link posts. Why? To encourage page managers to use this link post format as it gets greater engagement from users. As you'd expect, when you use the native thumbnail, Facebook's algorithm rewards your content with more impressions.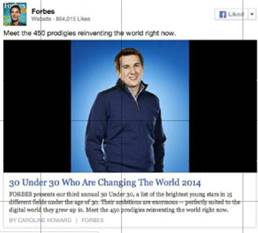 Given that, which of these two posts — both featuring the same link — perform better? As you might guess, the bottom post performs better and is rewarded accordingly.
Pro Tip: Use the native thumbnail image and description that are provided when you share a link post. Only change the image and description should you have a good strategic reason to do so.
Hack 4: Don't Share from Other Social Apps
As a rule of thumb, it's not advisable to share content from other social apps on Facebook. This theme should be feeling repetitive now: Facebook is interested in driving people to its platform and keeping them there. Content originating out of the network is therefore given lower priority by the algorithm than content that originated within Facebook. Additionally, many audiences view cross-app sharing of the same content as lazy and uninteresting, translating into less engagement, fewer shares and less love from the Facebook algorithm.
Pro Tip: Post original content to each of your active social networks — your audience will appreciate the tailored content and Facebook will reward the effort.
Hack 5: Newsjacking
Posting content in response to breaking news or trending topics will be rewarded by the Facebook algorithm because you are tapping into a topic where Facebook users have already shown an active interest. Facebook will notice if you include trending copy in your post and will give you a subsequent boost. Note that Facebook and Twitter trends are different; on Facebook, you don't need an exact verbiage match whereas Twitter requires it.
Pro Tip: Newsjacking in a polite, funny or inspirational way can really boost reach. Just be sure to do so in a way that is consistent with what your audience expects from you.
At the end of the day, Facebook is interested in improving the News Feed in order to enrich the user experience. And, when you are able to tap into what users want to see and share, you will be rewarded in turn by Facebook's algorithm. The greatest pro tip of all is to engage your community in a genuine discourse of ideas that encourages engagement and sharing — these are just the things Facebook is trying to encourage with its algorithm to make Facebook an engaged, vibrant community. And, according to Beth, while every audience is slightly different, getting to know your community and combining these best practices with their unique preferences will ultimately drive mission-impacting Facebook success.
Thanks, Kim and Beth!