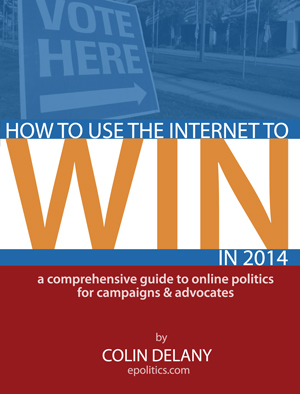 Howdy folks, with 2013 slipping fast into our past and the American political world deep in a holiday slumber, here's my last request of you for the year: if you've read the new ebook, would you please write a short review of it on Amazon.com?
Reviews turn out to be crucial to helping an ebook reach a wide audience, since they validate the the content to casual browsers, and as of today, the book has only one (thanks Charles — as always, you're a rock star). Consider it your cheapest Christmas present ever! And if you HAVEN'T had a chance to check out the book, this is a perfect opportunity to download a free review copy of the PDF version guilt-free. Thanks folks!
BTW, Epolitics.com won't be going on a complete holiday hiatus, since there ain't a whole lot to do where I am for the next week (Palestine, Texas — remember the baby armadillos?). Plus, I have plenty of notes from the recent RootsCamp waiting to turn into tasty articles for y'all to enjoy.
And, who knows what the new year will hold? Lots of adventures yet to come — thanks again for being a part of the fun in 2013.
– cpd