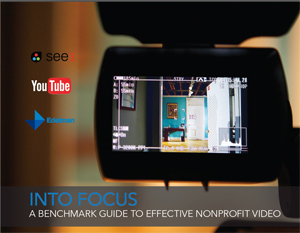 Good stuff dropped into the e.politics bunker today — a new nonprofit online video benchmarks report, put together by the folks at See3, YouTube and Edelman. I just pulled down my own PDF copy of "Into Focus: Benchmarks for Nonprofit Video and a Guide for Creators," and it's full of tasty information useful both for organizations already using video and for those just thinking about ordering that snazzy new camera. Here's a quick taste of the text to whet your video palate:
Nonprofits that value video most are more likely to:

Hire outside vendors
Make shorter videos
Measure performance with a wide array of tools
Focus on reaching new audiences
Distribute to more social media channels
Be a member of YouTube's nonprofit program
Read the full report for lots more about the reasons nonprofits are using video, how they're sharing it, what they're shooting and how they're handling it logistically. Damn useful all around.
– cpd