Hmmm, somebody better check on Bush's Environmental Protection Agency appointees: they must be frothing at the mouth — or unconscious from shock. Yes, an email just arrived from John McCain's campaign touting the candidate's enviro-friendly promo gear:
In our new store section, we're proud to offer eco-friendly t-shirts and polo shirts made from biodegradable fabric, as well as organic cotton hats and shopping bags. You can also buy travel mugs and notebooks made from recycled materials.
Wonder what Rush will have to say about this one…Operation Chaos is over, Operation Cognitive Dissonance has begun. (Note: the online store address didn't end up in the PDF, but here it is.) BTW, dig the shampoo-bottle logo: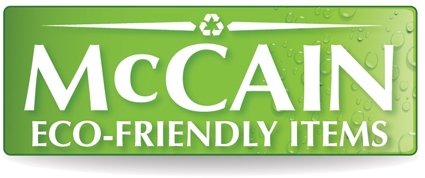 John McCain, from Hanoi Hilton to New Age fashion mogul…$50 for a polo shirt? THAT'S change we can believe in.
– cpd