Samantha with Republican Quote of the Day writes in to show off her latest creation, a Mitt Romney iGoogle theme: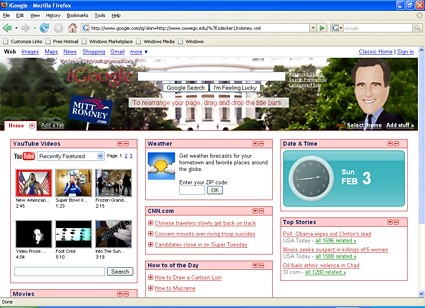 Click here for a larger screenshot, or here to see a live version of the theme or to install it.
I was going to go on a tirade about how the campaigns should do more to empower people to spread the word on their own and how an iGoogle skin was a good way to keep supporters' eyes on your message and your candidate and why doesn't Romney do more of that, but then I bothered to check his site and found that he already has lots of downloadable doohickies, including an email signature and banners for MySpace pages, though no actual widgets. So, cancel part of that rant and take the rest with a strong chaser.
– cpd